Administrative Note: NPDRR 2023
Introduction:
---
This note provides general information on administrative and logistic arrangements pertaining to 3rd Session of National Platform on Disaster Risk Reduction (NPDRR 2023). The event will be hosted by the Ministry of Home Affairs, Government of India during March 10-11, 2023, in collaboration with NDMA, NIDM and NDRF.
The Government of India has constituted a multi-stakeholder National Platform for Disaster Risk Reduction (NPDRR) vide Government's Resolution dated 26th February 2013 under the Hon'ble Union Home Minister as Chairperson and Minister of State in-charge of Disaster Management in the Ministry of Home Affairs (MHA) as Vice Chairperson of NPDRR. The resolution has been amended from time to time and a comprehensive resolution is notified on 26.02.2020.
Venue:
---
The venue of the 3rd Session of NPDRR will be at the Vigyan Bhawan, New Delhi. It is a premier convention center of the Government of India in New Delhi.
The Conference Halls of Vigyan Bhawan are equipped with audio-video facilities of global standards including local area network facilities for internet users. Vigyan Bhawan has connectivity with all major roads of New Delhi and can be accessed by bus, taxi and other local means of transportation. The nearest Metro Station is Udyog Bhawan (Yellow Line), Maulana Azad Road, New Delhi.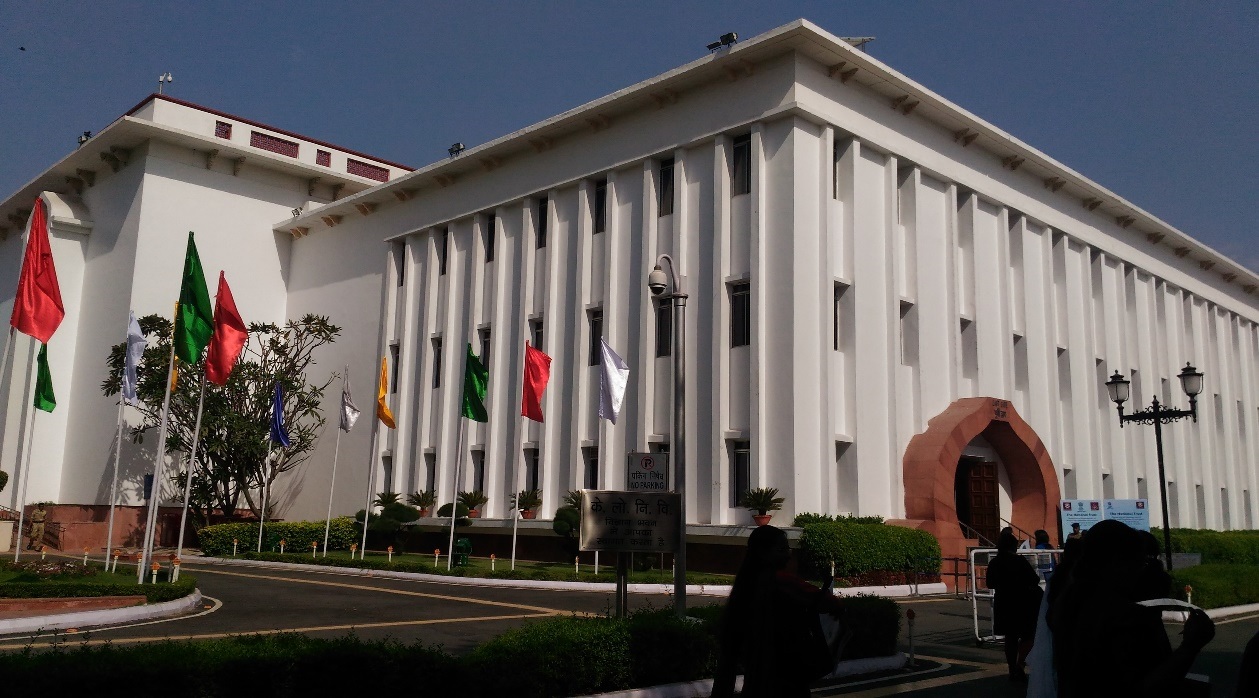 Vigyan Bhawan
Address: Maulana Azad Road, Rajpath Area,
Central Secretariat, New Delhi, Delhi 110011
Contact No. (+91)- 11-23022231, 23022122, 23022111.
Location map of Vigyan Bhawan
Registration:
---
Online: The invited delegates are requested to apply through online registration facility at https://npdrr.nidm.gov.in/. The online registration facility will be open from 14 February 2023 onwards.
Offline: invited participants who are unable to apply through online system are requested to send their registration-cum-confirmations in the prescribed format (Annex- 1) to the NPDRR Secretariat via email or speed post at the following address:
NPDRR Secretariat,
National Institute of Disaster Management,
Ministry of Home Affairs, Govt. of India,
Plot no. 15, Pocket-3, Block-B, Sector-29, Rohini, Delhi -110042
Phone: +91-11-20873412, +91-8527008591, +91-8527008592
Email: npdrrsec.nidm[at]nidm[dot]gov[dot]in
On-site: Registration facility for the participants would also be available at NDCC Building (MHA/NDRF) from 6th, 7th and 9th March 2023 from 9.30 am to 5.00 pm (except holidays). Further details will be shared in due course of time on the website.
Registration desk will be functional at the Vigyan Bhawan from 2.30 p.m. onwards on 10th and 11th March 2023. However, to avoid any inconvenience, participants are encouraged to register in advance through online system.
Entry to Conference Venue:
---
Conference passes/invitation cards along with valid identity card are required for entry into the venue and meeting areas.
Registered government delegates from the States/UTs are advised to collect their invitation cards/passes from their concerned Resident Commissioner's office in New Delhi on 7th and 9th March 2023. The details of Resident Commissioners' office are at Annex-II.
Other delegates are advised to collect their invitation card/pass from NDRF Headquarters or NPDRR Secretariat, MHA on 06.03.2023 and 07.03.2023.
The registered participants, who are unable to collect their invitation/pass, may collect the same from Registration Counter at Vigyan Bhawan, New Delhi on 10th March 2023 from 2.30 p.m. onwards.
Entry to conference venue will be subject to display of invitation card/pass and identity card issued by any Government Authority.
The conference pass must be worn and should be visible all the times.
Logistics Arrangement:
---
Participants are required to make their own arrangements for travel, accommodation and local transportation. Delegates/participants from the State/UT Governments are advised to contact their Resident Commissioners' office for any logistics assistance.
Helpdesk:
---
For any kind of assistance related to registration, participation and venue arrangements a help desk will be established at the Session Venue on 10 - 11 March 2023.
Also, the concerned organizations may call up or write an email to NPDRR Secretariat (npdrrsec.nidm[at]nidm[dot]gov[dot]in) for any queries related to the Session.
For more details, please click here
Security Arrangements:
---
In order to provide adequate security throughout the session, various levels of controlling and screening arrengements will be made at the venue. When necessary, individuals may be subjected to a physical search. The delegates and participants are requested to cooperate with the security staff.
Vigyan Bhawan has limited parking space. The vehicles will be allowed to park subject to electronic/physical search prior to entry. Vehicles of Ministers/VIPs will be parked outside the venue and will be available as and when required.
Facilities for Photocopy, Computer and Internet:
---
We encourage paper less conference. However, an office space having facilities related to computers, printers, photocopy and email/fax facility machines will be available at the venue for the resource persons. To reiterate, the venue strives to be environment friendly and all the delegates/participants are encouraged to use as less papers as possible.
Documents /Information:
---
All background materials, minute-to-minute program, concept notes and other relevant documents will be made available on NPDRR website i.e., https://www.npdrr.nidm.gov.in. The organizers will update the information related to the program from time to time. Therefore, the delegates are requested to keep checking the website regularly for latest updates/instructions.
Control Room:
---
The Control Room / help desk will be established at the venue to coordinate with various agencies. An ambulance along with qualified medical support will also be available during the event.
Information Display:
---
Central agencies, State/UT Governments, private agencies and NGOs will showcase their initiatives in the field of DRR on the inner walls of Vigyan Bhawan.
An exhibition will be organized for display of equipment and innovations on DRR. Various private stakeholders will be encouraged to showcase their facilities.
Language:
---
Hindi and English languages will be used for official and business purposes.
Lunch:
---
Working lunch, tea/coffee and water would be arranged for the participants during the session.
Liability:
---
The organizers shall not be liable for personal accidents and losses or damages to personal /corporate property of the delegates. Delegates are advised to make their own arrangements with respect to their personal and property insurance.
Contact List of residents Commissioner of the State/UT(Annex-I)
Offline Registration Form for Participation (Annex-II)